Good evening,
This week my family was lucky enough to celebrate two major life moments – my husband and number one supporter TJ turned 50 and my oldest daughter and her longtime beau who we love got engaged. It was so sweet to have these beautiful life moments in our lives – I hope you all are finding giant and tiny reasons for joy through these times.
This update includes information on an extension of the Vermont State of Emergency, continuing developments for students and teachers in the fast approaching school year, the results of our local primary elections and an invitation after a new symbol of ethnic and religious hatred painted on the roadway.
First, with more hate speech being spray painted on Windham County roads, this week in Dover, I am looking for ideas and partners to publicly welcome the many new residents and visitors we have to our towns. We are better then this and we are kinder more welcoming communities then these incidents infer. If you are interested in a working on a public welcome outreach campaign for our towns, or if you have a great idea on how to publicly welcome ALL new residents, second homeowners and visitors – send me an email at lhsibilia@gmail.com. I am also looking into state policies on defacing public property.
This year is the 100th anniversary of women being granted the right to vote. I was asked to expand on what the next step was for women's politics. While I would agree with many folks that the Equal Rights Amendment is the next step, an amendment to the U.S. Constitution that would prevent discrimination based on gender, the way we are going about it's passage highlights why there is a step that must happen before before the Equal Rights Amendment (ERA) – democratic reforms that can help our government regularly function.
The ERA is supported by close to 75% of Americans, but time, technical and legal details have prevented its passage. If the process of passage by Congress and ratification by the states were restarted – and our government systems were functioning – the ERA could be passed in a few short years. The lack of function in our government means that it makes more sense to try and rewrite precedent and push for questionable legal precedent law in the courts to get passage on the effort from the 1970's. This is what is happening today. And honestly it feels like a big waste of time and energy. How can we get our government to function with more support and get action on rights and reforms supported by most Americans?
The way our current system is set up, power belongs to the far left and far right fringes of our two party duopoly. The moderates on the right and left, though larger in number then the fringes of the parties, are squeezed out through democratic electoral systems that favor extremism in the two parties. Ranked Choice Voting, Independent Redistricting Commissions and Open "Jungle" Primaries are three electoral reforms we could enact that would require a majority vote for election and penalize personal attacks and reward discussion of issues and solutions.
These reforms could help get our government back functioning with regular order and help us tackle big and small problems that need our attention – like the ERA!
---
New guidance from the Vermont Agency of Education:
---
GOVERNOR PHIL SCOTT EXTENDS STATE OF EMERGENCY TO SEPTEMBER 15
---
LOCAL CONTACT FOR CLOTH FACE COVERINGS
The state of Vermont has made 300,000 donated cloth face masks available to all municipalities throughout the state. These masks are available to the public subject to the distribution strategy of each municipality.
The face masks will be distributed directly to municipalities that have requested them. The list of towns and points of contacts are listed here. The list will be updated as more towns request their allotment of masks. If your community is not listed, that indicates they did not request their allotment, or did not provide a contact. Vermonters looking to obtain cloth face masks may do so by getting in touch with the point of contact listed and requesting more info.
---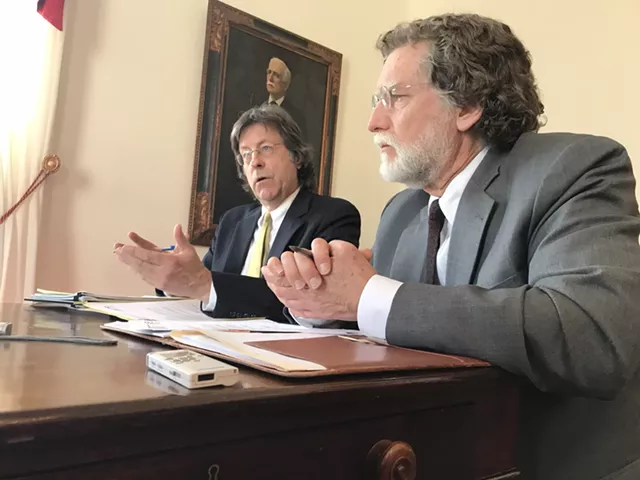 ---
---
Municipal Grants
The State of Vermont Tax Department announced two grant programs for municipalities, supported by Act 137 using federal Coronavirus Relief Funds (CRF):
---
---
The Child Development Division of the Department for Children and Families would like to meet with Vermont's employers to learn more about any child care concerns that employers may anticipate going into the fall. This sort of listening session will be helpful to the Child Development Division as we continue to develop policies to support the needs of families. We would also like to take the opportunity to open lines of communication with employers about how families can make use of the state's existing services to match with available child care, how to learn more about child care subsidies, and other ways that the state is working to support families during this challenging time. The RDCs of Vermont are encouraging businesses to attend these meetings.
Southern Region: Bennington County, Windham County, Windsor County Friday, August 21, 2:00-3:00 PM
Join Microsoft Teams Meeting or call +1 802-828-7667 United States, Montpelier (Toll), Conference ID: 482 483 442#
For more information:
Emily Blistein
Director of Business Strategy
Let's Grow Kids
Phone: 802.391.9801
19 Marble Avenue | Suite 4 | Burlington, VT 05401
---
Recent posts on my website
---